Frequently Asked Questions (FAQ)
Subscriber Services
How do I subscribe to Science News?
Subscribe to Science News right now by clicking here or give us a call at 800-552-4412. If you are outside the U.S., call (937) 610-0240.
Science News is published by the Society for Science. Your subscription includes a free one-year membership in the Society and supports our work to:
Inform, educate and inspire the public with science.
Publish Science News Explores free online for millions of students, educators and parents each year.
Produce our renowned science competitions that provide more than $6 million in awards to students, educators and schools annually.
Your annual subscription includes:
22 issues of Science News magazine delivered in print or digitally.
Unlimited access to ScienceNews.org, including daily news, premium content and archives back to 1924.
Updates from the Society so you can measure the impact of your investment and see the results of your support.
I didn't realize Science News was a nonprofit. Are there other ways I can help?
Absolutely! Learn about all the ways you can support the Society and Science News on our Ways to Give page.

How do I renew my subscription?
You can renew your subscription through our Renew page or by calling our Member and Subscriber Services Department at (800) 552-4412. They are available Monday – Friday, 9 a.m. to 5:30 p.m. ET.

How do I update my address information?
You can update your subscription information via our customer service page or by calling our Member and Subscriber Services Department at (800) 552-4412. They are available Monday – Friday, 9 a.m. to 5:30 p.m. ET. You can also e-mail us at subscriptions@sciencenews.org. Please include both your past and your new address in the body of the e-mail.

How do I give a gift subscription to Science News?
Give a gift subscription to Science News right now on our Gift page. Or give us a call at 800-552-4412. If you are outside the U.S. call (937) 610-0240. You'll have the option to send an e-mail or postcard letting your recipient know about your gift.

I have other questions or concerns. How can I contact your Subscriber Services team?
Online:
Use the links below for subscriber/member services:
By e-mail: subscriptions@sciencenews.org
By telephone:
(800) 552-4412 (U.S.)
(937) 610-0240 (outside U.S.)
Our Customer Service staff is available Monday through Friday 9 a.m. to 5:30 p.m. ET.
By mail:
P.O. Box 292255
Kettering, OH 45429-0255
If you are a current Science News subscriber, we may require your current subscription information as it appears on the mailing label, renewal notice, or invoice in order to access your account.

How do I order back issues of Science News?
Most past issues of Science News magazine since 1924 are available for purchase.

How do I know an invoice or renewal notice I've received is legit?
Please only renew through the Society for Science or one of the authorized sellers of Science News magazine listed below:
Alini Magazine Services
American Collegiate Marketing
Basch Subscriptions, Inc.
Beijing Book Company
BTJ Subscription Service
Calico Subscriptions
College Subscriptions Service
Consumer Marketing Solutions, LLC
Demco Periodicals
Discount Subscription Service
Ebsco
Harrassowitz
Island Magazine Service
Kinokuniya Publications
Levant USA Ltd
Magazineagent.com (Contrix)
Magazine Fulfillment Corp (Publishers Consulting Corp)
Magazine Subscription Service Agency
Magazineline
Maruzen
Minerva
National Circulating Co.
National Community Service
National Publishers Exchange
Newsub Service / Synapse
Periodical Publishers Service
Popular Subscription Service
Prenax
PTP Austin
Publishers Comm System
Subscription Service of America
Wolper Subscription Service
WT Cox
Some Science News magazine subscribers have received unauthorized "renewal notices." These deceptive notices have been sent by independent solicitation companies without the approval of Science News or its publisher, Society for Science. Their renewal rates are generally higher than our usual rates. Companies operate under numerous names but might include Publisher Payment Center and Associated Publishers Service.

Any notice from Science News will always include our logo, refer to your account status and request that payments be made to our processing center in Kettering, Ohio. Checks should be payable to the Society for Science. If you receive a notice that doesn't appear to be from Science News or an authorized agent, do not respond to it. If you have questions, call customer service at 800-552-4412 or e-mail subscriptions@sciencenews.org
---
Digital Resources & Troubleshooting
Where can I find your website terms and policies?
Does Science News offer a digital edition?
We do! You can purchase a digital only subscription. Print subscribers can opt in to receive the digital edition by contacting our subscriber service department at (800) 552-4412 or by e-mailing us.
As part of your digital subscription, you'll receive a notification e-mail every other week with a link to access the latest digital edition. Digital edition subscribers can access the latest issue at any time, as well as our archive of back issues. When prompted to login, simply enter the email address you used to sign up.
If you need to change or transfer the email address, or if you have any trouble logging on, reach out to our subscriber service department at (800) 552-4412.
Where can I download a pdf of past issues of Science News?
Paid subscribers to our digital edition can access a pdf version of recent past issues by visiting our archive of back issues. From there, select the issue you would like to download, and then select the Adobe Acrobat icon, as shown below: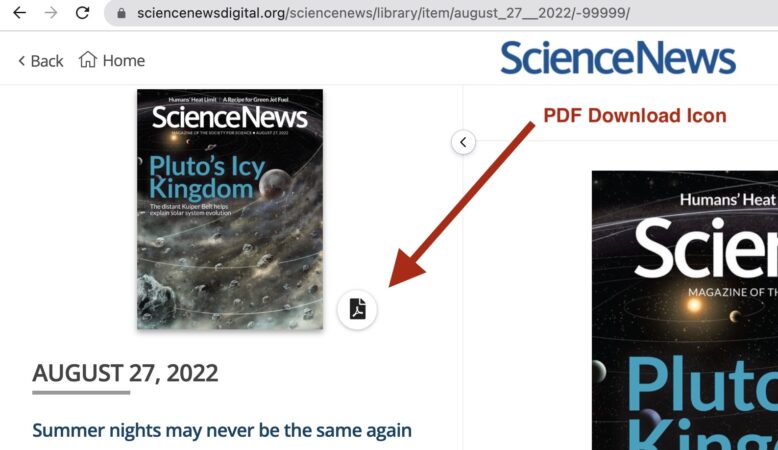 How do I manage subscriptions in the Science News app?
We offer an app for many devices, including Apple, Android and Amazon Fire. The easiest way to subscribe, manage or cancel a subscription on one of those devices is directly in your device settings.
If you're a subscriber and having trouble with the app, please refer first to the instructions specific to your device: Apple Users | Android Users. Failing that, please e-mail us with your full name, the e-mail address associated with your account, and an explanation of your issue.
How do I access the Kindle edition?
Amazon will shut down Newsstand in 2023. You can continue to purchase an annual Science News Kindle subscription through Amazon until March, 2023. In September, 2023, all remaining monthly subscriptions will be cancelled and Amazon will issue pro-rata refunds to any remaining annual subscribers.
The Kindle subscription is not connected to a digital or app subscription and Science News does not have access to individual subscriber data on this platform. To manage, update or cancel your Kindle subscription, log in to your Amazon account and navigate to Your Membership & Subscriptions.
Note: Our Kindle magazine no longer features images dues to formatting changes to the Kindle product.
Do I need to be a subscriber to view the full content of all Science News articles?
While many of our articles are freely available on our website, some articles – and all our archived content – are for subscribers only. You can subscribe here.

Can I see Science News articles on social media and related platforms?
Yes you can! Find us on Twitter, Facebook, Instagram, YouTube, Flipboard and more.
Does Science News have a policy on reader comments on its articles on those platforms?
Yes we do; find those guidelines here.

Why can't I comment on Science News articles anymore?
Science News discontinued comment sections on its articles in August 2019. For more on that decision, see this article. We do always welcome reader feedback on our articles; write to us at feedback@sciencenews.org.

Do you have an RSS feed?
Yep! Here's our RSS feed.
Does Science News receive compensation for recommending books or other products?
Science News is a Bookshop.org affiliate and will earn a commission on purchases made from links within some articles. Our relationship with Bookshop.org does not influence the selection of books for review or the review itself.
---
About Science News
Who publishes Science News?
Science News is published by the Society for Science (formerly Science Service), a nonprofit 501(c)(3) membership organization located in Washington, D.C.
How often is Science News magazine published?
Science News magazine publishes 22 issues per year, including four double issues, in print and digital editions. Our website features daily news, and you can subscribe to receive weekly e-mails with the latest headlines.
---
Contact the Editors
How do I send a letter to the editor or comment on a recent article?
You can reach our editors via e-mail (feedback@sciencenews.org) or send a letter to:
Editor, Science News
1719 N Street, NW
Washington, D.C. 20036
How do I submit a book for review?
Please send books to be considered for review by Science News via e-mail at editors@sciencenews.org or to:
Editorial Assistant
Science News
1719 N Street, NW
Washington, D.C. 20036
Please include "Book Review" in the subject line.
Book review policy: We will only consider books if they have been published in the current calendar year, or within two months of when the book is submitted. Please send review copies only of books, no more than six weeks after release. If the book is chosen for review, the book publisher will be sent two copies of the relevant Science News issue by regular mail.
---